How Internet radio works?
You can easily stream audio broadcast audio streams online. They can consist of audio files or live broadcast. Main components of online broadcasting:
Source (You)
You computer, connected to the Internet, is used for mixing all audio sources transferred through your sound card- it can be music file that is played, live voice from the microphone or other source. Computer converts  audio information from sound card to the "stream" and sends it to our server instantly. If for some reason, you are not able to broadcast from your computer, there is an option for broadcasting from the server. This  way audio content is uploaded to our server and is played directly from it.
Server
Internet radio server managed by our radio-platform receives the stream from your computer and forwards it to the listeners. Server settings allow to manage meta-data of the radio stream (genre, name, other parameters), broadcasting quality and variety of other parameters.
Listeners
Any Internet user anywhere in the world can connect to our server and start listening to your radio!
Why use your services instead of setting up my own server at home?
Internet connection speeds for home users are not fast or reliable enough for streaming purposes. Listeners will constantly suffer from "buffering" and sound interruption – especially if you use the same Internet connection for personal purposes e.g. watching videos on YouTube. When using stream hosting you don't need a high speed connection because listeners connect to our servers.
How does it work?
You broadcast your stream to our servers, and we serve the stream to your listeners. It looks like this: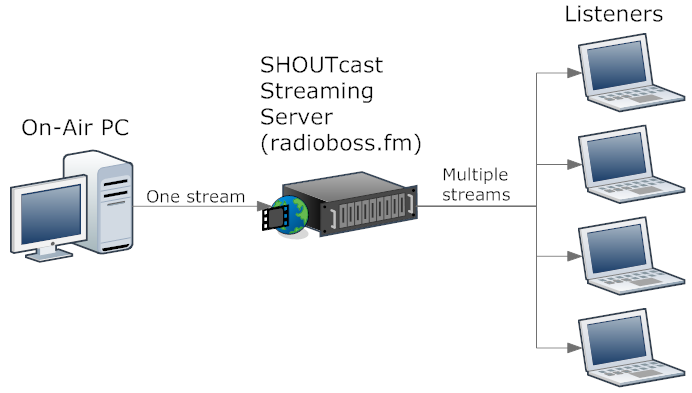 We use reliable servers with dedicated bandwidth ensuring high quality streaming services.